Limited Edition 2024 Signed Calendar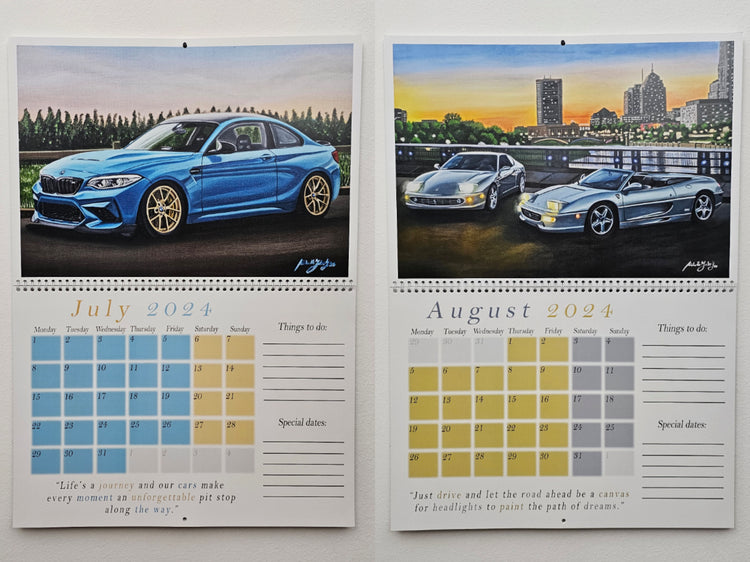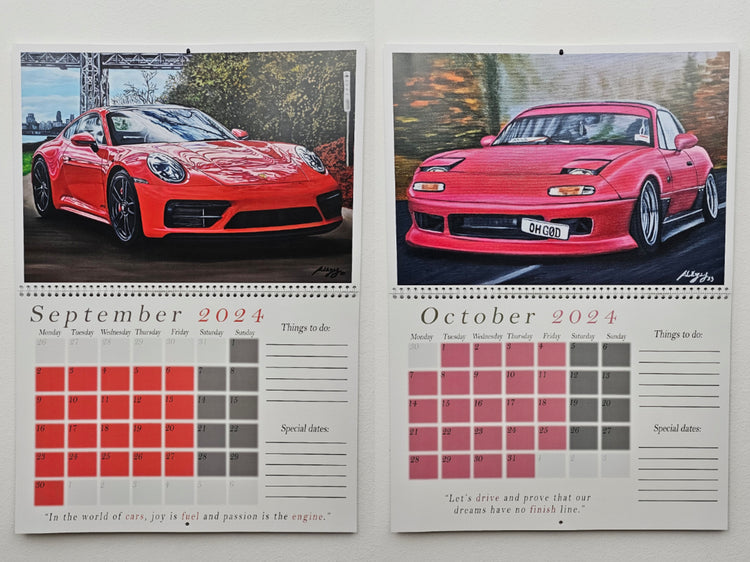 Product Details
This is the limited (100 pieces) edition 2024 high-quality signed calendar which is the third calendar that I did, painting and designing as well. 
Calendars will be sent out in late November with DHL Express which means anywhere in the world you are, you'll get them in around 3 working days so you get it way before Christmas.
Cars that are in are:
Ken Blocks Mustang Hoonicorn, Dodge Viper, Mercedes AMG GT, Chevrolet Corvette C6, Lamborghini Huracan Performante, Lamborghini Gallardo STS, MG TD, BMW M2 CS, Ferrari 456M GT, Ferrari F355 Spider, Porsche GTS, Mazda MX5 "Miata", Ford Mustang Shelby GT350R, Aston Martin DB5 from 007.
It's available in limited numbers and all of them are signed and numbered by me.
SHIPPING:
Slovenia - shipping is free, with DPD.
Worldwide - shipping cost is 10 EUR (around 11 USD), with DHL Express but you get it in 2 to 6 working days no matter where you are from.
FREE SHIPPING worldwide if you order 2 calendars or more (free shipping over 80 EUR)
This is a unique gift for a car lover. Or you can order it for yourself so you have amazing decor on your wall!
DETAILS
- It's printed on a high-quality 300 g coated silk (matte) paper (with EU EcoLabel certificate), so you can use all of the paintings as A3 prints when the year 2024 is done.
- Plenty of space to write events for each day.
- You get 12 prints that you can frame at the end of each month or at the end of 2023, 10 of those are prints from paintings that will never be available as prints.
SIZE:
Closed A3, Opened A2
Closed: 30 cm x 42 cm (12 inch x 16.6 inch)
Opened: 60 cm x 42 cm (23.8 inch x 23.8 inch)
Here is a video how you can reuse the calendar at the end of the year or at the end of each month and a video of the 2023 calendar (the 2024 will be a similar one)!
If you have any kinds of questions don't hesitate to write to me, I would love to answer them. Thank you!