Custom Painting 4 x 6 inches (10 x 15 cm) With Easel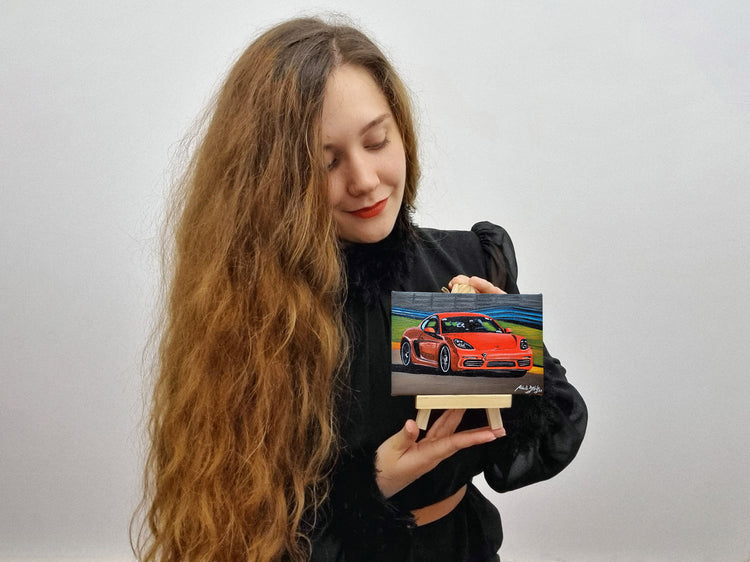 Product Details
Original custom miniature oil painting on canvas with easel.
Have your vehicle painted for display on a mini canvas 4 x 6 inches (10 x 15 cm) along with a mini easel for display! These can be displayed at home, on your dash at car shows, your desk at work, anywhere! A great way to show off your pride and joy in a fun, unique way.
Oil miniature painting on a small canvas that comes with an easel is hand-painted and it is an amazing gift for others and yourself. It's an original oil painting made by me.
It measures: 4 x 6 inches (10 x 15 cm).
This beautiful custom painting includes a wooden stand and can be placed anywhere.
It would look great on the windowsill, working desk, shelf, drawers, you can give it as a gift or keep it for yourself.
The painting will be shipped and packed professionally.
Ready to give as a gift.
This is hand-painted by me with lots of love using professional-quality oil paints on canvas.
DETAILS
Just click "contact me" and send me your photo(s) to start the process. I do realistic car photo paintings with oils – so first send me the photo on the email (realisticcarpaintings@gmail.com) so we can discuss the details to create the perfect painting.
…………………………………………………
About the custom car painting:
– You get it on gallery frame/ stretched – you will receive your painting carefully send.
– The size of this one is: 4 x 6 inches (10 x 15 cm)
– For custom sizes ask me or look at my other commission listing
………………………………………………….
Why chose realistic car painting:
– I will send you updated photos of the painting process, this is a 100% original handmade oil painting.
-I have a lot of painting experience and I use only the best materials in your painting. The painting will last years!
– The painting will be ready in 4-6 weeks (sometimes sooner, depends on the size) and the shipping will take 2-5 days depending on where you're located because I always send custom paintings with DHL Express.
– This is an amazing gift for any car lover, I am sure he or she will love this one!
…………………………………………………
How to place an order:
– Message me on contact me page or by email: realisticcarpaintings@gmail.com 
– Send me photos, and we will discuss the details about the painting, if it will look better with the background or without it, about the size,..
………………………………………………..
If you have any questions, please feel free to shoot me a message and I will be happy to answer all your questions.
Michelle