Aston Martin DB5 Painting Limited Edition Canvas Print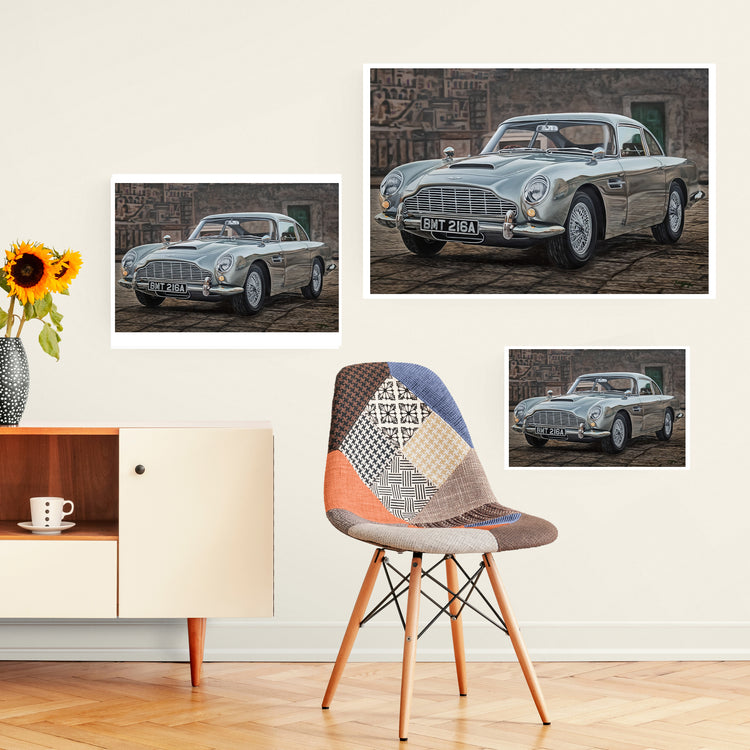 Product Details
This is a print of a realistic painting of Aston Martin DB5 (made by hand and it's unique.)
This print is available in only 50 prints each size and every single one has a signature and it's numbered (from 1-50).
This is a unique gift for a car lover. Or you can order it for yourself so you have an amazing decor print on your wall!
DETAILS
* Name of print: Aston Martin DB5 (1-50 prints each size)
* Original piece painter: Michelle Jakelj

* Size:
30 cm x 45 cm (12 inch x 18 inch)

45 cm x 60 cm (18 inch x 24 inch)
60 cm x 90 cm (24 inch x 36 inch)
90 cm x 135 cm (36 inch x 53 inch)
* Limited Print on high-quality 260gsm waterproof glossy polyester UV resistance canvas
* Shipping time worldwide is 1-6 working days because everything is sent out with DHL Express
* Style: Modern, Realistic
* Shipping: Print rolled in a tube or packed in a box envelope (it comes without a frame, so you have to frame it yourself or in your local shop or hang it on the wall without it - in poster style)
* Signature and number of limited edition prints – you get a certificate!
*If you want to get in any other sizes, make sure to contact me and I'll see what I can do.
*Your print will be professionally packed with great care.
*For any customizations on print (like a special note to someone if it's a gift), please contact me and we'll try to make it happen.
If you have any kinds of questions don't hesitate to write to me, I would love to answer them. Thank you!